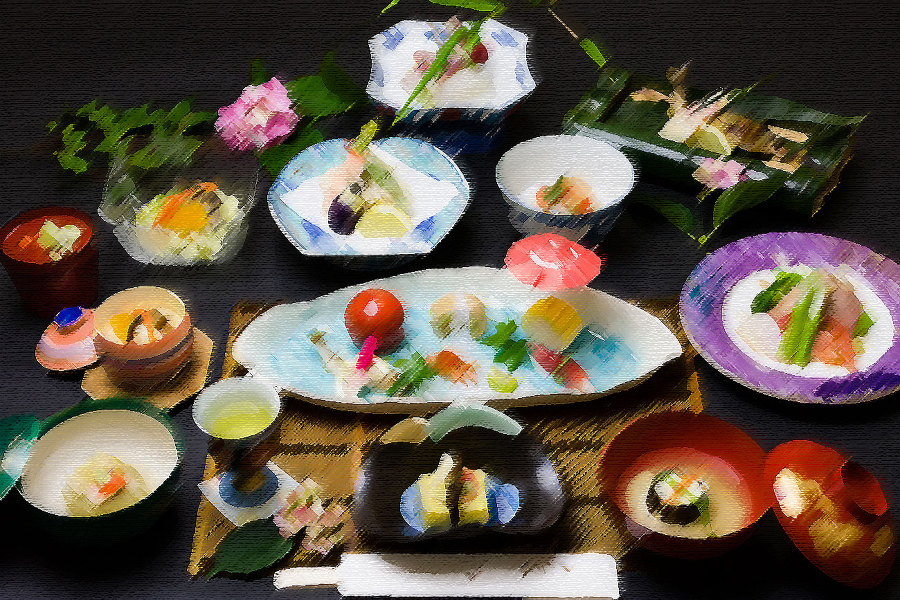 All advanced dishes of human civilization are rooted in monarchy culture.

A powerful centralization system that the monarch's word was clearly law can be the best condition to develop the best luxury and unusual dishes that humans can enjoy.

Western Haute Cuisine which has been at the peak of the French middle-age including the Islamic cultural sphere and the ancient Roman Empire is one of the best gastronomy styles in the world.

In addition, it add to Chinese cuisine that claim to be able to eat anything except cars and airplanes and Japanese "Kaiseki", the triangle of Global Haute Cuisine will be completed.

Kaiseki is divided into two categories about "Sado-ryori" which are attached to tea and "Honzen-ryori", Modern gastronomy style means "Honzen-ryori" series of kaiseki.

"Sado-ryori" which is eaten for the purpose of care boring times is a more like snack to eat with afternoon tea rather than a meal.

"Honzen-ryori" is a style of cooking that began in the 17th century when Tokugawa started to take power in the Edo Shogunate, alternating dozens with 4 to 5 small menus and several dishes on a small table. The serving method is similar to a Korean dynasty.

At that time, the "Honzen-ryori" style was a court meal, but it was a dinner concept where rice and side dishes were eaten together on a rich table. There are some differences from "Modern-Kaiseki" which is currently one of the world's finest dishes.

Looking at past history, the beginning of all Haute cuisines, both east and west, was the imperial court, but the development and apex are completed by the private sector.

Kaiseki also took root in the Tokugawa administration and from the 20th century Emperor Meiji administration era, it was propagated to the private sector. Through this process, it has been further simplified and armed with artistry, Eventually evolving into "the super Haute cuisines of the Orient".

Modern kaiseki cuisine serving sequence setting is first, "Kobachi" which like Western cuisine amuse-bouche and appetizer "Zen sai", "Suimono" same as Sherbet, main dish "Sashimi", grilled dish "Akimono", steamed dish "Mushimono", stewed dish "Nimono", dessert fried "Agemono", vinegar sashimi It is composed of "Sumosumo", meal distance of rice and noodles "Shokuji" and fruit dessert "Mizugashi". Depending on the preference and theme, it can be composed of 9 courses up to 12 courses.

Unlike French Haute Cuisine which is a lump of high sugar, high fat, and high sodium, Kaiseki is composed of low-calorie, high-nutrition dishes based on reproduction and fermenting formulas, so it is never inferior to other health foods.

The course menu offered at a local Japanese restaurant in the Republic of Korea is a new style created by adding gorgeous plating and popular Korean dishes based on Japanese-style Kaiseki. Of course, that is not the traditional japan style.

Tamura Takashi from a family of Kaiseki prestigious for about 60 years and Nagatsuma Satoru who is one of the best artisans in Asia, always showcases clean but elegant cuisine.

Nagatsuma Satoru was originally sticking only to the orthodox style, but recently he is also using trendy Kaiseki which has raised the art of plating to the limit.

Kaiseki is the best meal for disease-free longevity and is the only haute cuisine that doesn't cause an upset stomach even if eat it every day.

Recent trends in cuisine are "fusion" and "re-creation" regardless of whether they are in the East or West.

Also part of the big singularity worldwide is the recent trend of "Contemporary Kaiseki" in which many young chefs are based on Japanese style and harmonize Western ingredients and cooking methods.