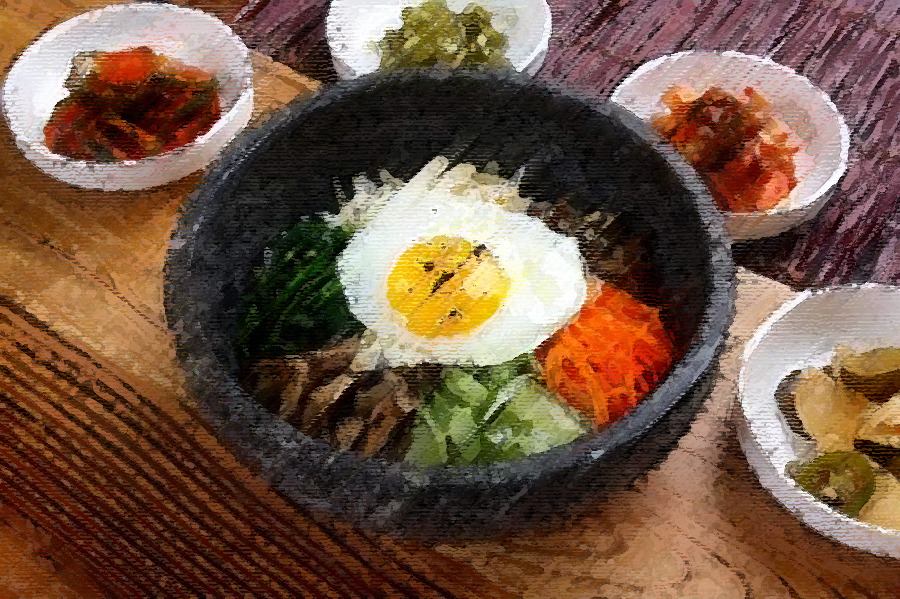 Today, bibimbap is by far the most popular signature Korean cuisine for foreigners.

The grilled meat called Korean Grill is also very popular, but there is no cuisine of inducing curiosity with a series of inversions like riding a roller coaster means of than bibimbap.

Appreciating the rainbow-colored dolsot (stone-pot) decorated with about 10 kinds of vegetables and a polite meat garnish, it feels like we are in an uncontaminated garden of Eden.

However, after throwing gooey red paste on a finely plated dolsot rainbow, if witness the tragedy that ruthlessly beating a rice lump as if were fighting a mud, soon screaming with laughter.

After calming down the surprised mind, the moment raises our thumbs with a tasty symbol while calming our painful tongue after examine rice mixed with red rice and well-mixed vegetables with an unfamiliar spoon.

Nowadays, it's popular enough to be sold in general local restaurants and even snack bars, but Bibimbap was originally a valuable food that could be eaten only by nobles from the early Chosun Dynasty.

Unlike instant bibimbap which is made by throwing a miscellaneous ingredient and rice in a silver bucket at the kitchen corner and then mixing and "drinking" gochujang, real bibimbap is made of stone-pot is a process that is as severe as French haute cuisine.

It is necessary to take care of dozens of kinds of ingredients one by one, take the time and effort to cook them and make use of the individuality and scent of each ingredient while also gaining insight to bring out the "Third Taste" through mutual harmony.

Gochujang's red color, sweetness, saltiness, and pungent taste are just additional elements that are not necessary at all for traditional bibimbap made with craftsmanship.